"One learns by doing a thing; for though you think you know it, you have no certainty until you try."
-Sophocles
To develop within the MathSci students a diverse and broad perspective, interdisciplinary Critical Thinking and problem solving skills, collaboration and teamwork skills in solving complex problems for an ever changing global society.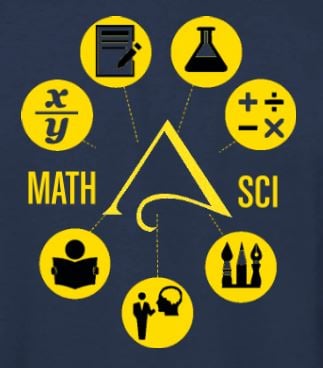 Critical thinking and problem-solving skills are crucial in addressing the complete societal and ethical questions of today.

Students learn best in a community where academic disciplines are incorporated to understand how they interact and are intertwined.

Our diverse and inclusive world compels us to understand languages and diverse cultures.

A Liberal Arts education is elementary to understanding and reasoning.

The methods of scientific research provide discipline to our search of knowledge.

Research stems from a combination of fundamental knowledge, individual creativity, and curiosity.

Effective communication and working with others who think differently is essential in developing ideas and direction.

Collaborative learning, athletics, and extracurricular activities develop leadership and interpersonal skills.

Responsibility and integrity are core values of MathSci.

Learning is a lifelong journey.